« Back to Events
ULI Idaho – A Conversation with Henry Cisneros – Building Equitable Cities in an Urban Nation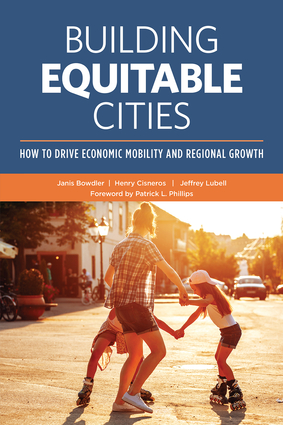 Join us for a Conversation with Henry Cisneros on Building Equitable Cities.
"Engaging cities as leaders in a national strategy of combating inequality is America's best hope for ensuring that our historic experience of progressively building a fairer society continues, and that our ongoing quest for a more equitable society will drive our future," says co-author of Building Equitable Cities: How to Drive Economic Mobility and Regional Growth, Henry Cisneros, chairman of CityView in San Antonio, Texas, and former secretary of the U.S. Department of Housing and Urban Development.
Henry Cisneros co-founded CityView in 2000 and currently serves as the firm's chairman. He also sits on each of CityView's Investment Committees. In 1981, Cisneros became the first Hispanic-American mayor of a major U.S. city, San Antonio, Texas, where he was subsequently elected to four terms. In 1992, President Clinton appointed Cisneros to be Secretary of the U.S. Department of Housing and Urban Development ("HUD"). After leaving HUD in 1997, Cisneros became president and chief operating officer of Univision Communications, the Spanish-language broadcaster. Mr. Cisneros currently serves on Univision's Board of Directors.
Mr. Cisneros has served as President of the National League of Cities, as Deputy Chair of the Federal Reserve Bank of Dallas, and is currently an officer of Habitat for Humanity International. Mr. Cisneros remains active in San Antonio's leadership where he is former Chairman of the San Antonio Chamber of Commerce, the San Antonio Economic Development Foundation, and BioMed SA. He is a former member of the advisory board of the Bill and Melinda Gates Foundation.  Mr. Cisneros has been inducted into the National Association of Homebuilders (NAHB) "Builders Hall of Fame" and honored by the National Housing Conference as the "Housing Person of the Year."
Cisneros is a graduate of Texas A&M and holds a Masters' degree from the Kennedy School at Harvard and a Doctorate from George Washington University.
Event Fees:
Member $35 /Non-Member – $50
Public Non-Profit $30/Non-Member $40
Student $20/Non-Member $30
Under 35 $25/Non-Member $35
Note – event is on the 6th Floor in the Skyline Room. Enter from the North Tower Elevators. Parking will be available in the lot adjacent to the Stueckle Center.
For Registration Assistance Contact: 1-800-321-5011
Click here to view a list of attendees.
iCal Import